American Service-members and Montana residents can
Get married despite the distance, from anywhere
Nimble and simple, the quickest hitch you can get!
If you are active duty armed forces or a Montana resident, we can marry you without you being present. We have proxies who will stand in on your behalf. They can sign the marriage license for both of you. It's that easy and we can get it done faster than anyone — usually within 2-3 business days.
"They got everything done quick and easy"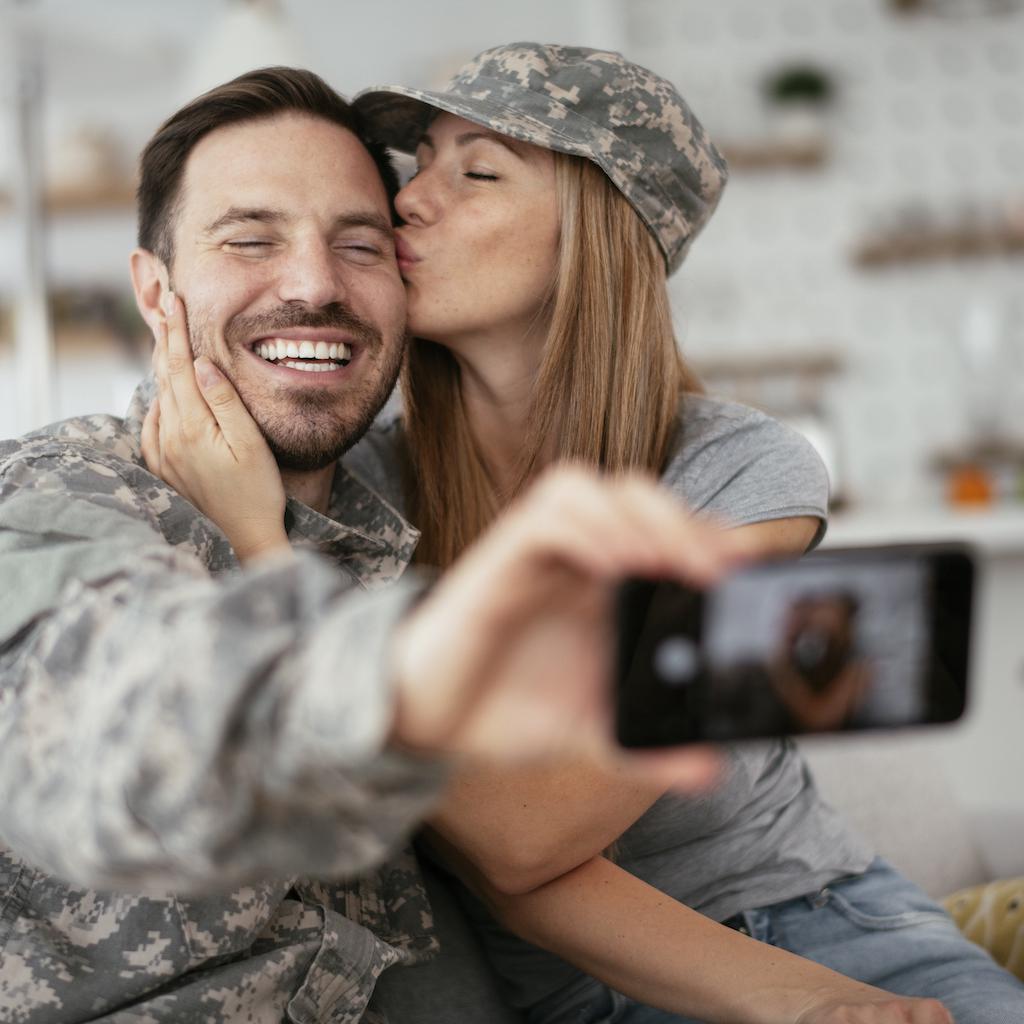 Double Proxy Marriage Pricing
The right price for you, whoever you are
We offer two varied marriage packages.
Paper
$579
The paper option takes a bit longer and requires each of you to visit a notary in person or pay to use an electronic notary service. Fees include the following:
Required forms

Two proxies to stand in for each of you

Marriage service

All filing and license fees

Two copies of your Marriage Certificate

Expedited shipping of marriage license
Online Express
$749
The online express marriage helps expedite the process and get the two of you married as quick as possible! All that comes with a "paper" marriage plus:
Electronic fillable forms

24/7 Virtual notary service

No need to mail documents

Short turn around time

Documents usually filed within 2-3 business days

Expedited shipping of marriage license
Note: If one of you is a foreign national, please visit the US Citizen and Immigration Services Website for immigration policies and procedures. Also, the State of Montana requires a certified Apostille document when marrying a foreign national that includes an additional $40 fee that can be added to your payment at checkout. MT Proxy Marriages will provide you with the Apostille document upon completion of your marriage.
Have questions? Please email or phone anytime.
info@MTProxyMarriages.com
406-585-0297
Who we serve
Many can take advantage of double proxy marriages
Requirements for all proxy marriages are the same: one of you must be in the armed forces or one of you must be a Montana resident. That's it!
Active-duty military
Are one or both of you in the armed forces but possibly living in different geographical areas and can't get together to be married in person? We can marry you! The state allows those in the military to be married by proxy regardless if neither of you are present.
Non-military
Are you and your fiancé in different geographical areas and can't get together to be married in person? If one of you are Montana residents, we can marry you! Even if you are a same sex couple.
LGBTQ
Are either or both of you LGBTQ but the state where you reside won't allow anyone to marry you? If one of you are Montana residents, we can do it!
Frequently asked questions
Double proxy marriage is a process allowed in Montana for residents and active members of the military. In a double proxy marriage, the couple signs their right-of-attorney over to two stand-ins who get married for them by signing the marriage license in front of an officiant. Neither member of the couple or even the officiant is ever together in the same room during the wedding. The marriage is legal and recognized in all states, except Iowa. Several other states, including California, Texas and Colorado allow for single-proxy marriages where one member of the couple is present whereas Montana is the only state that allows for neither to be present.

Any couple where one person is active duty military or any couple where one person is a Montana resident.

The benefits of a proxy marriage are the same as a face-to-face marriage. Some of the financial perks include:

Joint Bank Accounts
Health Insurance
Paternity child benefits
Increased Borrowing Power
File Together for Income Tax Benefits.
Retirement savings
Estate planning

The list of benefits for married armed forces personnel is quite long including:

Free Healthcare
Housing Assistance
VA Home Loan eligibility
Free Legal Assistance
Dependency & Indemnity Compensation
Educational Scholarships, Loans, Grants
Luxury Armed Forces Recreation Resorts
Space Contingent Free Military Air Travel
Tax-free Shopping at "The Exchange"
Tax-free grocery shopping at "The Commissary"

Either or both of you can be outside of the country as long as you meet the requirements of one of you either being in the Armed Services or a Montana resident. And, you both must be able to return the required forms and paperwork.

Yes, all LGBTQ marriages are allowed by law in the State of Montana and we can marry you.

If you should change your mind about your marriage, we will refund you your original payment minus any credit card or Notary processsing fees.
About MT Proxy Marriages
Meet the Langs
MT Proxy Marriages is located in beautiful Bozeman, Montana in the heart of the Big Sky. Colette and Gerry Lang manage the business and make sure your marriage by proxy is perfect.
Together, we ensure you and your future spouse can take advantage of all the benefits of marriage despite the distance.
Colette Lang

Executive Officer

Colette is originally from Southern California, is a University of San Diego alumni, and has lived in Montana for over 20 years. She has spent most of her career leading teams, with a strong focus on customer experience and customer success. She carries that concentration in all she does for the fiancés who trust in us with their marriage. Colette processes the marriage licenses and orchestrates the proxy marriage process. She, as well, conducts the non-denominational marriages.

Gerry Lang

Operations Officer and Proxy

Gerry is a fifth generation Montanan, a San Diego State alumni, and Navy veteran. He has dedicated his professional career to adult learning and employee performance. He manages the LLC and manages the legal logistics of the marriage.

Colette and Gerry have been married for 27 years and have two grown children, Hannah and Cameron.

Hannah is a sixth-generation Montanan. She is currently attending graduate school. She has many interests including politics and public service and she enjoys organized sports. She's also an animal lover. She enjoys her role as a marriage proxy.

Cameron enjoys the outdoors, all sports, traveling, and is an avid golfer. He has worked for the past several years in both the food and golf industries. He is happy to be helping as one of the proxies. Cameron is also a sixth-generation Montanan.
Our Process
How to get started with your double proxy marriage
If you are ready to get started today, select the package option in the pricing table. This will start the process immediately. You will be able to pay by credit card, the Welcome Packet will be sent to you, and detailed steps for whichever plan you selected, Paper or Online Express, will arrive via email.
If you would first like more information, just request the risk-free starter packet. It will provide more details on each option and doesn't require any credit card information or commitments.
Before you begin a marriage, ensure you both have valid identification available - driver's license, passport, or birth certificate; and if you are an armed forces member, your military ID.
Marriage has many benefits
The benefits of a proxy marriage are the same as a face-to-face marriage. Some of the financial perks include joint bank accounts, lower health care costs, tax benefits, and saving for retirement.
If you are an active duty service member, numerous additional benefits will come your way including free healthcare of the entire family, housing assistance sometimes in on-base homes are additional compensation. You will also receive benefits with your shopping with both regular on-station retail and grocery shopping.
Start the process
Email or call us today.
info@MTProxyMarriages.com
406-585-0297